Spiral Cables Configuration Spec Sheet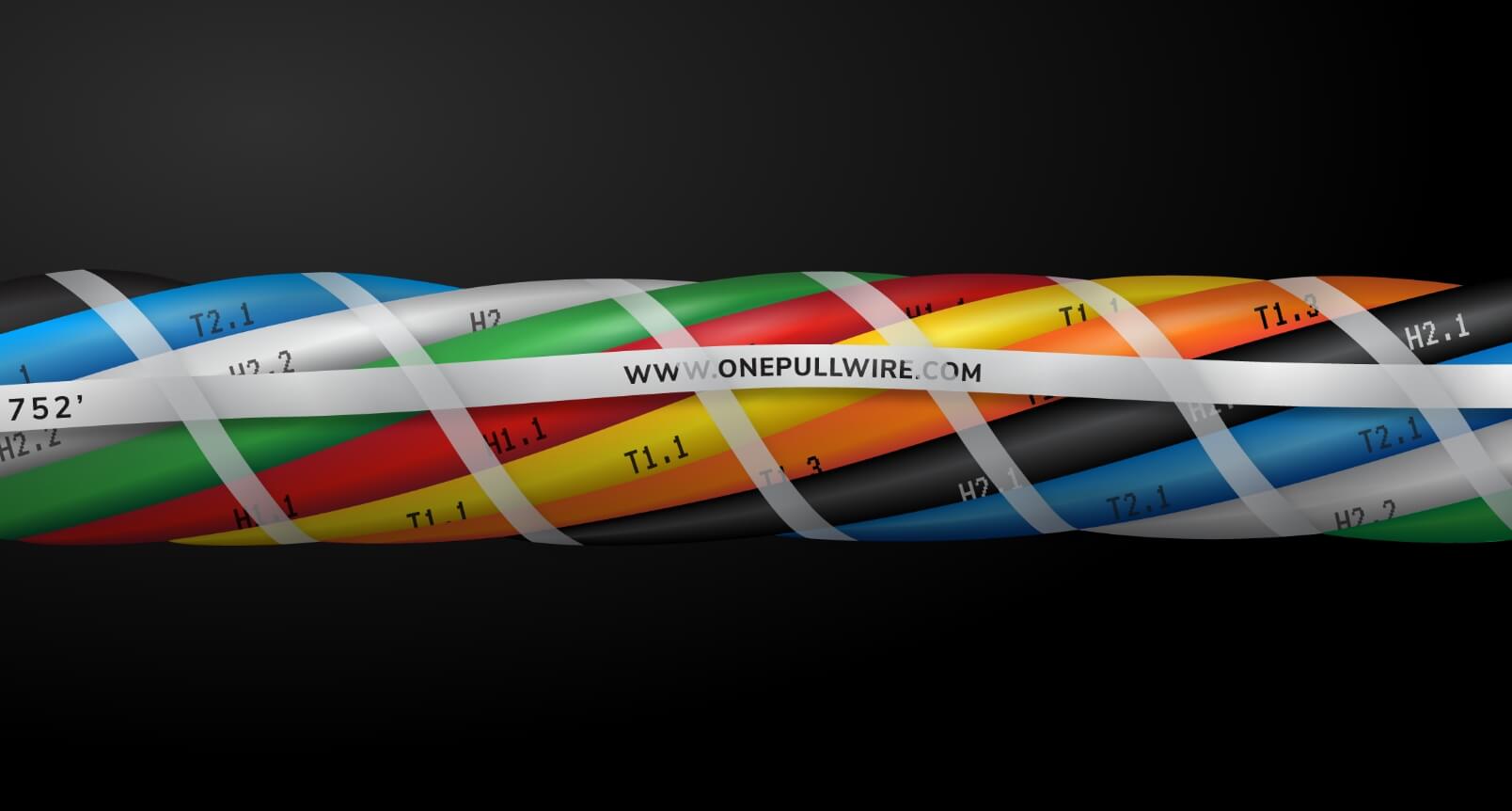 Overview
One-Pull is the only bundled wire manufacturer that offers spiral cables configuration, which twists each of the conductors in a concentric lay.
Quik-Pull Spiral is the most flexible custom cable on the market. It retains its roundness and does not change proportion when pulled through 90 degrees. Spiral assembly of building/fixture wire, factory bound, UL labeled and shipped on pull-length reels. Conductors numbered approximately every 1-1/2″.
Industry Uses
For long pulls in conduit where all the conductors will be carried end-to-end.
Where minimum outside diameter and maximum flexibility are needed.
Where the overall assembly is to be jacketed.
SPECIFICATIONS
Conductor
Any combination of electronic, coaxial, twisted pairs, and single conductor. Solid or stranded, bare copper per customer specification. Spiral configuration can be constructed from most single conductor wires, 6 AWG to 18 AWG. Conductor sizes can be mixed in an assembly. Maximum O.D. capability is 1-1/2″.
Insulation
As required by the conductor designation, e.g. MTW, THHN, TFFN, XHHW, plus any electronic cables, e.g. coaxial, low-voltage control, fire alarm. Specification for conductors used will be furnished on request.
Conductor ID
Alpha-numeric characters, words, sentences. Standard sequential number coding. Colors, striping and other alphe-numeric coding available.
Listing
UL Listed Processed Wires. E76139.
Cabling
Unilay spiral construction for flexible finished cable with overall nylon binder thread.
Binder
Two flat, waxed 5040-denier nylon threads, spaced 1″ apart, are wrapped around the entire assembly in the same direction. The waxed binder adheres to the assembly, staying in place while pulling through conduit. Alternative binding and taping are available.
Footage
Sequential footage marker under outer binder thread.
Packaging
No-charge, non-returnable wooden reel. Reel tag contain type, size and beginning and ending sequential footage numbers.
READY TO SAVE TIME & MONEY WITH BUNDLED CABLE AND WIRE?
Get a quote for our custom wire and cable bundles today.