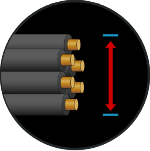 BUNDLED CABLE OUTSIDE DIAMETER CALCULATOR
Since customers frequently ask us to calculate the estimated outside diameter (OD) of a wire bundle, we've created this bundled cable calculator to help you easily determine the OD of your XHHW-2 or THHN wire bundles.
Simply fill out the wire insulation and gauge, the number of conductors, and select your configuration type.
GET YOUR SPREADSHEET-FORMATTED OD CALCULATION RIGHT IN YOUR INBOX TO SHARE WITH YOUR TEAM
Submit the form below to immediately receive a downloadable spreadsheet containing your specified bundled cable OD calculations.