Commercial Solar Projects Are Growing in the Northeast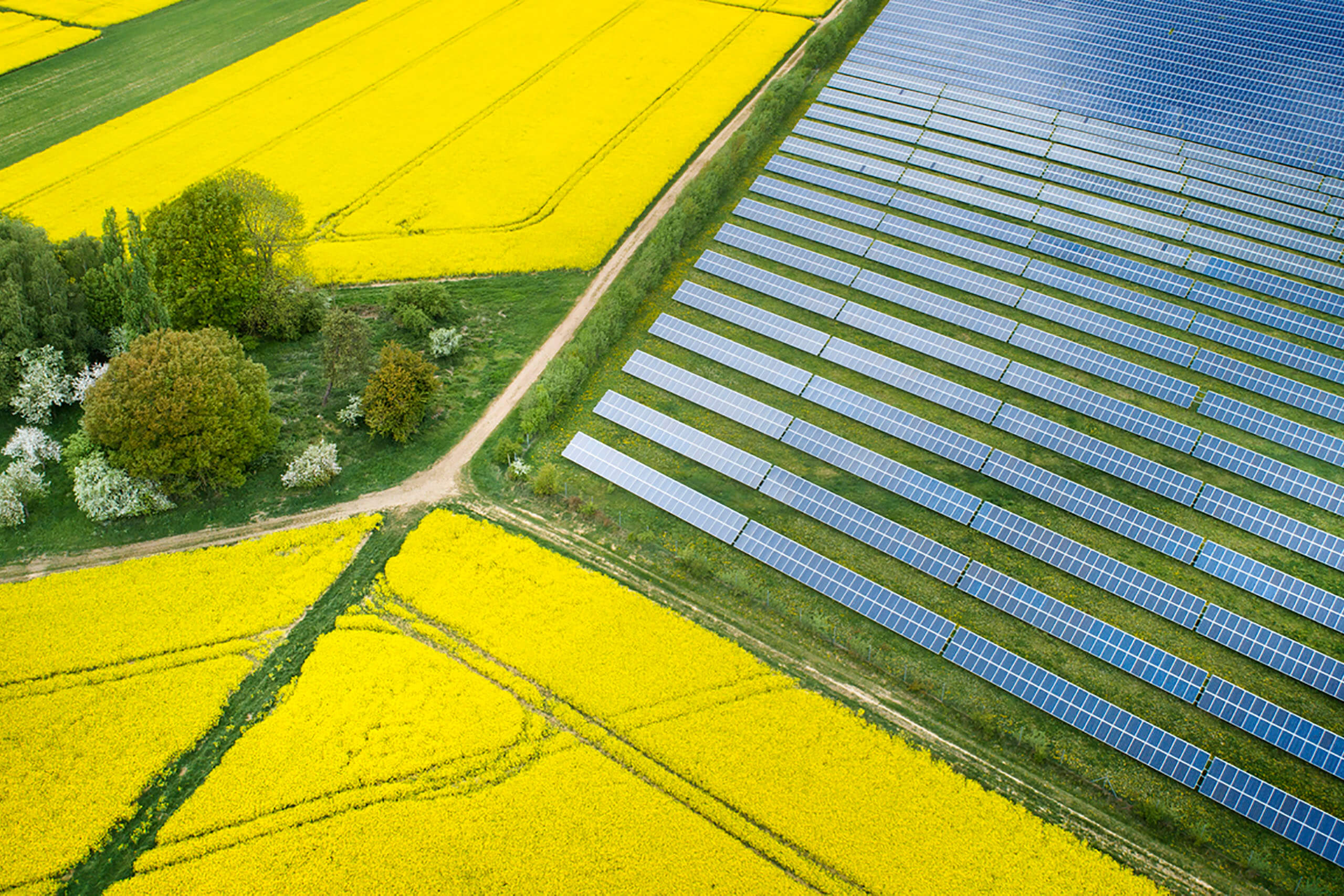 Large commercial solar farms are cropping up all across the United States at an unprecedented pace. According to S&P Global Market Intelligence, the U.S. added 4.8 gigawatts of utility-scale solar capacity in the first half of 2021, a 15% increase from the first half of 2020 and nearly half of the total capacity added in 2020. And long-term growth prospects for solar are excellent. In late 2021, the federal government outlined a plan that would see the U.S. grow solar capacity by an average of 30 GW per year until 2025, then 60 GW after 2025.
While many of the largest solar installations are in California and the Southwest, solar growth is not limited to the Sunbelt. Even the Northeast, better known for long, cold winters, is seeing an explosion of new (and planned) commercial solar projects. Here are a few notable examples:
Cider Solar Farm
Spread across 3,000 acres in Genesee County, N.Y., the planned Cider Farm project is a 500-megawatt photovoltaic (PV) facility being developed by Hecate Energy. When completed, the project will supply an estimated 920,000 megawatt-hours (MWh) of renewable electricity per year — enough to power over 125,000 New York households.
The Cider Farm facility will use an innovative solar panel tracking system that will follow the sun to optimize power production throughout the day. The project developers estimate that the Cider Solar farm will offset nearly 400,000 tons of carbon dioxide emissions annually – equal to removing almost 90,000 cars from New York's roads each year.
If the New York State Office of Renewable Energy Siting (ORES) approves the project, Cider Solar Farm will be the largest solar project permitted and built in New York state, at an estimated cost of $500 million.
Gravel Pit Solar Farm
North of Hartford, Connecticut, the small town of East Windsor is the future site of one of the largest solar farms in the region. The project will be built on a 485-acre site and generate over 120 megawatts of power— enough to service almost 23,000 homes.
According to East Windsor selectman Jason Bowza, the solar farm will become one of the town's five largest sources of property tax revenue, generating $378,000 a year for the next 20 years, plus an additional $1.5 million in infrastructure enhancements. The project also promises to create significant employment opportunities in the East Windsor region.
The developer, New York hedge fund D.E. Shaw Renewable Investments, is targeting a project completion by late 2022 or early 2023. According to project partner VHB, the East Windsor facility will reduce carbon emissions and align with Connecticut's clean energy goals while providing power to Massachusetts, Rhode Island, and Connecticut.
South Ripley Solar Farm
Chautauqua County, N.Y., is home to ConnectGen's large-scale South Ripley Solar Project. The South Ripley project will include up to 270 megawatts of power generation and a 20 MW battery storage facility, creating enough energy to power over 60,000 New York homes.
The South Ripley facility will create an additional $800,000 in tax revenues annually to the Town of Ripley, totaling more than $26.8 million over the project's lifespan. It will also provide approximately $190,000 annually in incremental property tax revenue to Chautauqua County and more than $389,000 annually to local school districts.
According to ConnectGen, the South Ripley solar farm will take up approximately 2,000 acres, and construction will be low impact to minimize soil disturbances. ConnectGen has also committed to limiting tree clearing, working around wetlands, and collaborating with local farmers to identify and utilize low-productivity farmland. ConnectGen expects the South Ripley facility to be fully operational by Q4, 2023.
Horseshoe Solar
Nestled between Rochester and the Finger Lakes, the towns of Caledonia and Rush are the future sites of the 180-megawatt Horseshoe Solar Farm. Power from the farm's 600,000 panels will power an estimated 35,000-50,000 homes. The project represents a $200 million capital investment, will generate $500,000-$700,00 in taxes annually, and remit $650,000-$1.3 million in landowner payments each year.
Horseshoe is just one of many solar projects that are creating significant economic benefits for the state of New York. According to the Solar Energy Industries Association (SEIA), solar projects have resulted in more than $3.5 billion in investments in the state and created over 9,000 jobs. In addition, 88 facilities in New York manufacture electrical components utilized in the solar industry.
While the Northeast is seeing the development of several impressive solar projects, they can't match the scope of those coming online in the Southwest. For example, The Gemini project, scheduled for construction on federal land in Clark County, Nevada, will be a 690 megawatt, integrated solar PV and battery storage facility.
If completed as proposed, Gemini could be the largest solar plant of its type in the country. Encompassing 7,100 acres, the Genesis project is expected to create over 2,000 construction jobs, with a forecasted completion date of Q4, 2023.
An Unprecedented Opportunity for Contractors and EPCs
The U.S. solar boom can best be categorized as 'full speed ahead.' In December, President Biden signed an Executive Order that, among other things, called for '100 percent carbon pollution-free electricity (CFE) by 2030, at least half of which will be locally supplied clean energy to meet 24/7 demand.' References to several ambitious solar projects were prominent in the Executive Order's official brief.
While large-scale solar projects represent a significant opportunity for contractors and EPC's, they'll need to embrace innovative methods and technologies to maximize productivity and profits. For example, contractors using One Pull's solar PV bundled wire system can pull one megawatt of PV string wire per day with a four-person crew and reduce installation time by up to 80%.
Contact us today if you would like to learn more about how One-Pull's PV bundled wire solutions can help reduce your labor costs and solar project completion times.

READY TO SAVE TIME & MONEY WITH BUNDLED CABLE?
Get a quote on our custom cable bundles today.