A World of Opportunity For Commercial and Industrial Electricians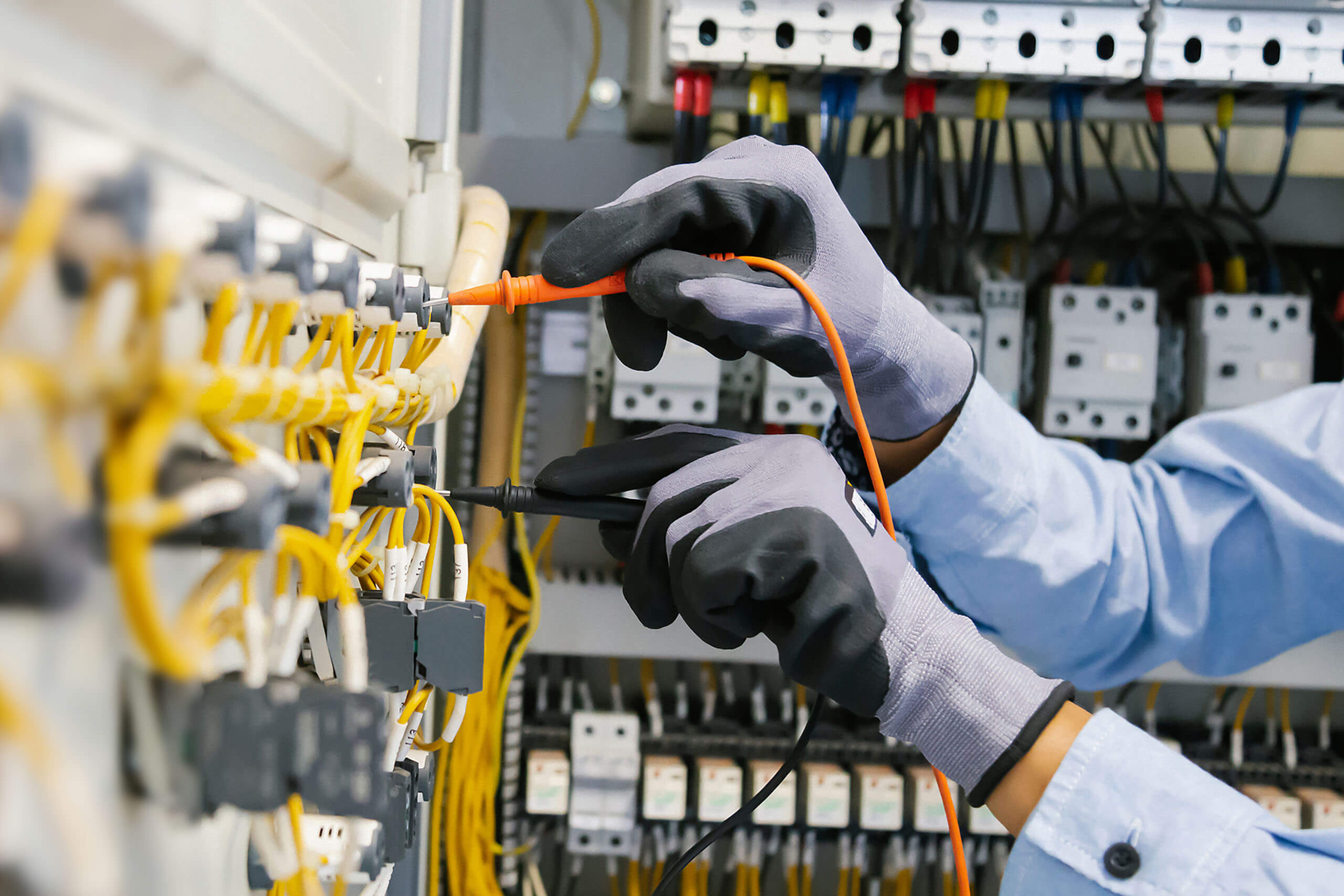 It's not easy to become an electrician. It takes years of study, training, and hard work — often under challenging conditions. However, the rewards can be substantial, both in remuneration and job security. According to the U.S. Bureau of Labor Statistics, the median annual wage for electricians was $56,900 in 2020, and there are 84,700 projected job openings every year until 2030.
Commercial and Industrial electricians looking to further stack the cards in their favor should consider specialization. Many electrical specialties are in high demand and should remain so for years to come. That demand is reflected in both opportunities and compensation.
Here are ten specializations for commercial and industrial electricians:
Solar Electricians in the commercial sector install, maintain and repair solar photovoltaic (PV) equipment, wiring, and fixtures. These specialists will plan the layout and installation of solar wiring, test equipment, and circuits for safety, and ensure compliance with local building and electrical codes. The U.S. Bureau of Labor Statistics found that employment opportunities for solar technicians are projected to grow 52% from 2020 to 2030, much faster than the average for all occupations.
Security and Fire Alarm Technicians install and repair security, fire, and smoke alarm systems in industrial and commercial facilities. These electricians specialize in low-voltage systems. Tasks may include:
Maintaining and upgrading CCTV systems
Conducting regular inspections
Educating customers
Determining if systems comply with fire and electrical safety codes
Marine Electricians install and maintain electrical systems on ships and other aquatic structures, with duties that include troubleshooting and safety testing. Marine electricians require a detailed understanding of the unique challenges (e.g., submersion and corrosion) associated with mixing water and electricity.
Wind Turbine Electricians (aka wind techs) install and maintain the electrical components of wind towers and turbines that generate clean energy. Wind techs must be comfortable working in small spaces and at significant heights — sometimes up to 200 feet. These specialists also manage transformer bank wiring and partner with electrical company personnel to connect turbines to the general power grid.
Industrial Electricians work in large-scale plants and manufacturing facilities. The heavy machinery and equipment used in these locations typically use more power and require frequent electrical work. Industrial electricians often work across multiple job sites and projects and may require industry-specific certifications.
Electrotechnical Panel Builders install and manage complex electrical control panels used in industrial systems. Responsibilities include installing all panel components, inserting wiring harnesses, and testing all components and circuits. Electrotechnical panel builders must have a good understanding of information technology, including programmable logic controls, and be able to read schematics and panel blueprints.
Electrical Instrumentation Technicians install, test, and repair commercial and industrial building control systems (e.g., heating, air conditioning, and refrigeration). Other tasks include implementing and calibrating sensors, control devices, and measuring instruments. Precise control of these systems helps optimize manufacturing production and maintain safe working environments.
Outside Linemen are electricians who install and repair power lines that run between power plants and commercial buildings or residential units. A career as an outside lineman is not for the faint of heart. It involves working at heights (up to 100 feet for transmission linemen) and outdoors, sometimes in difficult weather conditions. Linemen often perform emergency work on weekends, holidays, and at night.
Electrical Inspectors review and certify the electrical components of new and existing buildings and commercial facilities. They must ensure that all wiring is up to code and meets all safety requirements. Electrical inspectors also document each inspection, certify installations as required, and may stop work or request changes if a project does not meet specifications.
Highway Systems Electricians install and maintain roadway transportation systems, including traffic lights, roadside lighting, and intelligent transportation They also support traffic information and communications systems critical to managing traffic and maintaining road safety. Highway systems electricians often work outside under challenging conditions and sometimes must climb poles and operate heavy equipment and vehicles in heavily-trafficked areas.
Certification Levels For Electricians
As with most technical fields, electricians' training, experience, and certifications pay dividends as their careers progress. There are three certifications levels for electrical workers:
Apprentice Electrician. Every new electrician is required to complete an apprenticeship program. In addition to a high school diploma (or equivalent) in most jurisdictions, apprentices must complete several hundred hours of classroom training, then apply for an apprenticeship with a licensed electrician.
Journeyman Electrician. Once a new electrician has completed their apprenticeship requirements, they can test out and (if successful) receive their Journeyman license from their governing body (state, local, or federal). A certified Journeyman may work unsupervised and is qualified to train new apprentices.
Master Electrician. The requirements for this highest level of certification differ from region to region; however, most states require approximately 4,000 hours of Journeyman experience and the successful passing of the licensing exam. Master Electricians take on the most challenging industrial projects and may provide on-the-job training for Journeymen electricians.
Unprecedented Opportunity for Specialist Electricians
2021's infrastructure bill has positioned $550 billion in spending over the next five years for a wide range of renewable energy and infrastructure projects. These initiatives will provide countless opportunities for skilled tradespeople — perhaps even more so for experienced, specialized electricians.

READY TO SAVE TIME & MONEY WITH BUNDLED CABLE?
Get a quote on our custom cable bundles today.