5 Electrical Contractor Specialties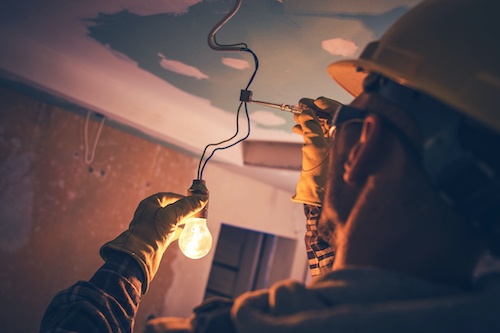 Electrical contractors are generally classified by the type of electrical work they do. There are various specialties that an electrical contractor can decide to pursue. Understanding these different specialties is essential as they require not only specialized knowledge but licenses. Specialization, as most would think, does not limit the scope of work that an electrical contractor can do. On the contrary, a contractor is most likely going to be more competitive with specialization.
Developing a specialty field requires one immersing themselves in all of its aspects to understand all facets of the new venture. This translates to a contractor being knowledgeable and well-trained, thereby increasing their competitiveness on job bids.
As electrical contractors progress in their career, they may find themselves working mainly in particular areas that they may eventually decide to focus on. However, this does not mean exclusively working in these areas of interest and not others.
The following are some of the specializations that exist for electrical contractors:
1. Fire Alarm Systems
Fire alarms use a complicated connection from the mainboard to fire detectors distributed all over buildings—both commercial and residential. Because of this, an electrical contractor must be highly knowledgeable and skilled in working with fire alarm systems.
Contractors dealing with fire alarm installations would normally be certified by the National Institute for Certification in Engineering Technologies (NICET) in fire alarm systems. This is so because a high level of proficiency in fire alarm codes is required. A qualified contractor should be able to provide advice on both the installation and maintenance of the system. Engineers working with electrical contractors in this specialty often want a contractor who understands the importance of a fire alarm system and how to install them in a code-compliant manner.
Fire alarm systems are low voltage wiring systems. For this reason, electrical contractors working to install these systems may sometimes be referred to as low voltage contractors.
2. Solar
Panel
Installation
s
Solar installations are not a one-size-fits-all solution. These installations are can be dangerous and complicated work that is linked with high voltage transmission. Experienced and well-trained electrical contractors familiar with the industry are needed to provide the installation and maintenance needs of solar projects. These contractors are required to undergo specialized and extensive training for different facilities. While this sounds daunting, the solar industry is booming and the demand for electrical contractors in the solar industry is higher than ever. This presents an opportunity for electrical contractors wanting to specialize in the solar industry.
A big hurdle in solar installations is the high up-front cost. However, this is an opportunity for electrical contractors to be competitive while maintaining high–profit margins. Incorporating value-add solutions makes a contractor's bid stand out as it ensures reduced installation costs.
Being a competitive electrical contractor in the solar industry goes beyond cost-savings; it also means being suited to install solar systems for a wide variety of locations and buildings and being able to provide recommendations tailored to the project requirements.
Check out our value-add solutions that help electrical contractors save time and money on their solar projects.
3.

Oil and Gas Industry

Just like the solar industry, the oil and gas industry has been growing. Electrical contractors working in these sectors are often required to put effective electrical systems in place that can handle the energy requirements without compromising on safety and reliability. Safety comes in when extracting, processing, and treating natural gas.

Electrical contractors in this industry need to be familiar with the electrical equipment essential to the industry. Such equipment includes:
Signal, alarms

,

and surveillance

—

these are essential for the safety of employees working in the

plants

Motor Control

s—

critical for circuit protection and power management hence

required

for the proper working

of electrical safety systems

Lighting

—

proper lighting is necessary for performance,

quality, and safety in the industry

.

Instrumentation

—

used to monitor critical processes on offsh

ore oil and gas platforms in power production plants and petrochemical installations.
4. Water Treatment Plants
Water plant installation takes a special type of electrical contractor. This is because water treatment plants are complex and technically advanced.
Electrical contractors choosing to specialize in these water treatment plants are often qualified in motor control, PLC, and instrumentation installation and wiring. Knowledge of controls, wiring methods, and SCADA systems are all essential components for a qualified electrical contractor to perform and execute water treatment projects in a safe and timely manner.
Electrical contractors in this specialization provide a wide range of services including but not limited to:
Wiring and installation of chlorination equipment

Using and handling sewage treatment facility equipment

Monitoring system panels and power installations

.
Wastewater treatment plants use a broad array of equipment and instrumentation systems. Having some familiarity and expertise in using this equipment could make an electrical contractor stand out.
5. Process Automation
Industrial process automation helps optimize processes and streamline workload. Electrical contractors in process automation deal with installations of automated conveyor systems, integrated machinery, and automated process control systems. As the use of automated systems continues to increase in the construction and manufacturing industries, there is a constant demand for specialized contractors.
Electrical contractors specializing in process automation get to work in a variety of projects including:
Chemical plants

Agriculture facilities

Food production

Manufacturing plants

Construction

Distribution Centers
Learn more about the best construction estimation software for electrical contractors.

READY TO SAVE TIME & MONEY WITH BUNDLED CABLE?
Get a quote on our custom cable bundles today.