Differences Between a Wire Harness and Cable Assembly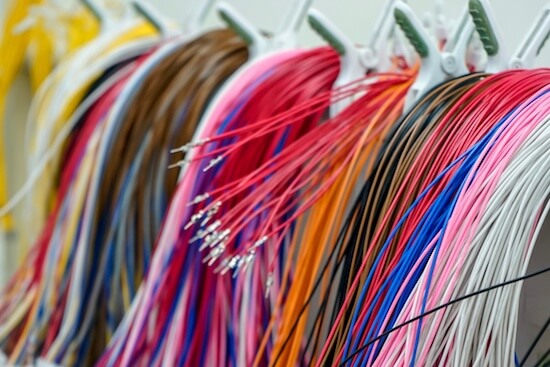 Wire harnesses and cable assemblies are standard terms in the wire and cable industry and are used to power many different electrical devices. They are used so frequently that electrical contractors, electrical distributors, and manufacturers will often refer to them interchangeably.
Call it a wire harness, cable harness, wiring harness, cable assembly, wiring assembly, or wiring loom. The terms are frequently employed to refer to the same thing:
A group of electrical cables or wires assembled together which transmit signals or electrical power.
The cables are bound together by a durable material such as rubber, vinyl, electrical tape, flexible conduit, a weave of extruded string, or some combination. But while all these terms are used, there are differences between a wire harness and a cable assembly.
What Are Cable Assemblies?
Cable assemblies and cable harnesses are customized cables. Cable assemblies are more rigid, structured, durable, and depending on the material involved, may be best suited for outdoor use. A cable assembly is a group of wires or cables arranged into a single unit. The purpose of this product is to provide the power of several different cables, while organizing them in a package that is easier to install, replace, and maintain.
A cable assembly usually goes into one panel or port and connects into that single unit that is directly plugged into the power source. From there, the wires serve their function for either pushing communications or transmitting electricity through them and consists of multiple wires and/or cables.
Wires or cables are often in different colors or otherwise marked or striped so that they can be easily identified. Some cable assemblies have exposed wires, while others are encased in a close-fitted protective sleeve.
Because of their sturdy design, cable assemblies are primarily suited for outdoor applications and for handling larger capacities of electric current. The durable structure of cable assemblies means that they're able to withstand heat, moisture, abrasion, and other environmental conditions.
Cable assemblies help prevent damage to cables and wires by keeping them together and reducing the physical trauma from strong vibrations and other factors. They can also provide protection from other problems such as dirt, dust, oil, and water. This protection reduces potential problems with the machinery caused by wire being worn from vibrational friction along with electrical shorts occurring from damaged spots on the wire.
What Are Wire Harnesses?
Wire harnesses have a different build from cable assemblies. Wire harnesses are usually designed according to geometric and electrical requirements. A diagram is then provided (either on paper or on a monitor) for the assembly preparation and assembly. The wires are cut and respooled to the desired length, usually using a special wire-cutting machine. The wires may also be printed on or striped by a special machine during the cutting process or on a separate machine afterwards.
This is where the difference between a wire harness and a cable assembly occur. The ends of the wires are stripped to expose the metal (or core) of the wires, which are fitted with any required terminals or connector housings. The cables are assembled and clamped together on a special workbench, or onto a pin board (assembly board), according to the design specification, to form the cable harness. After fitting any protective sleeves, flexible conduit, or nylon binder, the harness is either fitted directly into the equipment on site or shipped. The wire harnesses themselves vary in applications and are more fragile due to the ends attached.
Even with increasing automation, the wire harness shares a similar trait with the cable assembly in that most of them are still hand manufactured due to the many different processes and ends involved in the vast array of varying applications and processes.
A wire harness is essentially a wrapping material that bundles up different cables together. Rather than binding multiple wires into a single strand (such as a Quik-Pull spiral configuration), a wire harness essentially groups distinct cables and wraps them together into a compound structure. Within a wire harness, each cable (or wire) is already individually wrapped in a dedicated sheath (or insulation). You can essentially pull out an individual cable (or wire) from a wire harness.
The primary purpose of a harness is to group together different cables for easier connectivity. They help keep electrical systems organized by preventing individual cables from running all over the place and allow for quick connectivity.
The wire harness material can be as simple as a nylon thread or zip tie (for grouping cables together), or it can be an external sheath that covers some of the wires and cables contained therein. It's important to note that the sheathing in a wire harness is not designed to protect individual cables but to group them as a unit (similar to how the pull tabs in a Quik-Pull cable bundle function).
Because wire harnesses are not as durable as cable assemblies, they're only useful for indoor applications. The load capacity of a wire harness is also limited to the number and size of cables that are grouped.
Two Important
 D
istinctions 
between Cable Assemblies and 
Harnesses
Two important differences are in the structure and function.
1. In a cable assembly, the cables look and act like one thick wire. While each cable inside the jacket or sleeve may function separately, the product appears as a single thick wire.
A wire harness, on the other hand, is merely a grouping of separately sheathed wires. You can see each cable or wire within the wire harness. Consequently, individual internal components can be easily broken out and run in different direction.
2. A cable assembly is durable. A wire harness is best for indoor use.
The jacketing or sleeve applied to a cable assembly is designed for durability and stress-resistance (best suited for outdoor applications), while the coating on a wire harness is commonly made of electrical tape, industrial yarns, or a plastic not rated for sunlight resistance, wet conditions, or other environmental factors making them suitable for use only indoors.
Cable assemblies can be routed into tight and smaller spaces (due to the single durable construction of the assembly), while a harness tends to be more limited due to the individual cables contained in the structure.
Interested in learning more about harness options for an electrical project? Check out the different harnesses and bindings we offer. 

READY TO SAVE TIME & MONEY WITH BUNDLED CABLE?
Get a quote on our custom cable bundles today.