What Types of Wire Can Be Used in Wire Bundles?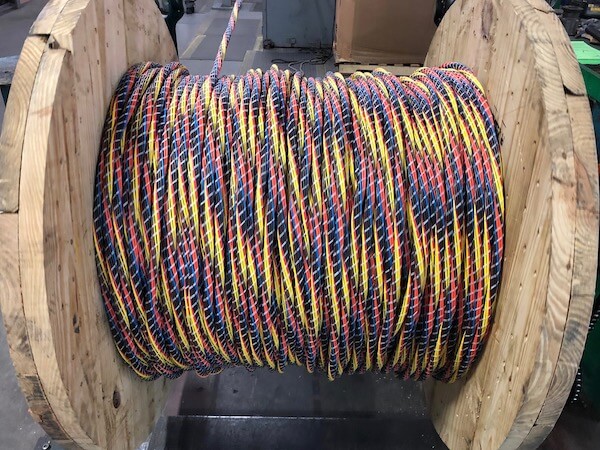 One of the most common questions we receive is what types of wire can be used in our bundled cable configurations. As for wire type, the answer is simple: any kind of control wire.
Our most requested cable bundles contain access control wires such as THHN, TFFN, XHHW-2, Cat5, Cat6, data cable, and fire alarm cable. Additionally, we have a bundling line dedicated exclusively to PV wire for utility solar farm projects.
From a customer standpoint, the most critical question is whether it will be more efficient to pull the wire bundled together than to pull as individual singles. Usually this is the case but only up to a certain gauge type. Our equipment is capable of bundling wire as small as 18AWG up to 6AWG. Our wire bundles reach a maximum 6AWG because once the wire becomes very heavy, it loses its flexibility. As a result it cannot be easily pulled through conduit.
Finally, customers will sometimes ask whether we can print, bundle, and cut wire they already have on hand.
Absolutely we can.
Customers can ship the wire to our manufacturing facility if they want us to mark and bundle wire they have already purchased. Electrical contractors often remark how the custom alpha-numeric on each conductor makes it easier and faster for their team to identify the wire.
Want to learn more about our custom wire bundles? Check out our "how we make bundled cable" video.

READY TO SAVE TIME & MONEY WITH BUNDLED CABLE?
Get a quote on our custom cable bundles today.