Understanding Bundled Cable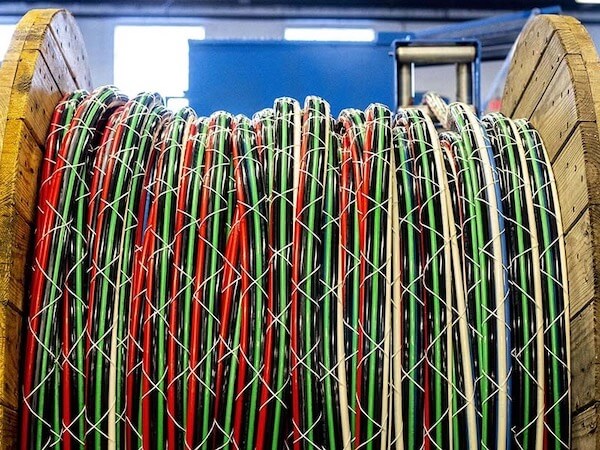 By Rudy Hanecak, General Manager of One-Pull Wire and Cable Solutions  
"Would you like HBO included in your bundled cable package?"  
Nope, we're not talking about that type of bundled cable. We're talking about 20-conductor-or-more wire bundles that electrical contractors pull through tray and conduits, like these giants below:
Whether it is building wire, Cat5E, or most other wire products out there, pulling wire through conduit is a time intensive activity. Bundled cable simplifies the setup process and saves hours on the actual installation.
Furthermore, identifiable printed labels facilitate addressing any future maintenance problems or emergencies (I.e. solar farms). If accidental damage occurs during routine maintenance or reinstallation, the custom printing makes it easier to discover and fix the problem.
So who could benefit from these anaconda-size braids of wire? Simply put, any electrical contractor who works with dozens of cables that all need to be tagged and bundled stands to save money, time, and energy.
The benefits of the product are straightforward:
Results in a 40%+ time savings in conduit and tray installations
Custom printing and marking on individual conductors
Manufactured orders of over 150 plus conductors
Minimizes wire waste on the job (all lengths are custom)
Single reel setup per homerun
Reduces time spent on site setup
A value-added service for electrical distributors
Applicable in power, fire, signaling, water treatment, and data industries
Think of all the wire a contractor goes through, whether they are installing cable in a data center, a solar farm, a fire alarm system, or a commercial power plant. Tying 1,000 ft+ of 50-conductor Cat5e can take hours.
After all, who wants to tag and bundles these wires on the job site?
So what's the difference between bundled Cable, speed pull, rapid pull, ready pull, one pull, thrifty pull?
Short answer:
Nothing
Though the practice of bundling cable has been around since the 70s, no dominant term arose for the product. Consequently, there are various names for the product. But at the end of the days they are refer to the same thing. What you see below:
We prefer the phrase bundled cable since it easily captures the features that define the product:
Spools of conductors that are bundled and printed based on customer specification
Easier than ordering an Internet Cable Package:
When it comes to purchasing bundled cable, the process is straight forward. Here are the steps:
Call or email the OEM cable bundler (in our case, sales@onepull.com)
Provide the number of conductors
How much footage you need
What type of wire
The harness and configuration type
Any specific printing requests
Provide a delivery address
Alright, by this point the bundled cable manufacturer should now have identified the wire the customer is looking for in their cable, the harness type, the configuration, as well as how many runs of conductors of the wire material are required.
Once we get that squared away, we can get to work turning this:
into colorful bundles like this:
Interested in learning more about the benefits of bundled cable? Use the contact form below and one of our bundled cable specialists will get back to you

READY TO SAVE TIME & MONEY WITH BUNDLED CABLE?
Get a quote on our custom cable bundles today.